WOMEN'S MISSIONARY UNION
FBC Lathrop
Women's Missionary Union (WMU) is a missional organization within FBC Lathrop. It is a women's outreach where women come together to learn about and plan missionary work.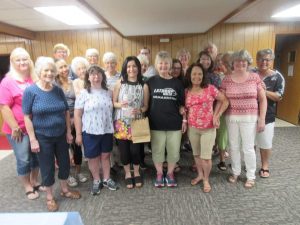 We meet on the 2nd Monday Night at 7pm of Each Month at the Fellowship Hall – FBC – Lathrop.
Upcoming meetings for 2021:
April- Presentation of Prayer Shawls and Prayer Blankets and delivery.
May- WMU will join LLG and be planting flowers and delivering them as a missions project to the community.
June- No meeting, we will be assisting and serving at the Friendship Festival in Lathrop.
July – No meeting, we will be assisting and serving with VBS at our church.
August- City Union Mission Focus and we will be adopting teachers in Lathrop schools.
September – Rheubin L South focus and School Supply Drive project.
October- Samaritan's Purse focus and possible funding assistance on mailing cost.
November – Angel Tree Focus
December – WMU will join LLG for our Annual Cookie Exchange
If you have additional questions on how you can support or current projects contact Jane Snodgrass at 816-284-1942 or Lori Morgan at 816-509-1825 or lmiller3243@yahoo.com.