"Shout for joy to the Lord, all the earth.
Worship the Lord with gladness;
come before him with joyful songs!" [Psalm 100:1-2]
Scripture tells us to "Worship the Lord with gladness – come before Him with joyful songs!" Music is one significant way that we connect with and give praise to God. The Lord is glorified in song, songs which speak of His greatness, His power, and His triumph over sin and evil.
At FBC Lathrop, our selection of worship music is blended. This means we sing some contemporary songs (written by artists such as Chris Tomlin, Matt Redman, and Natalie Grant, among others), as well as a few older hymns. With a mixture of traditional and contemporary music, there is something for everyone! Song selections are made to ensure that the melodies are easily singable, memorable, and, most importantly, that the lyrics are in accordance with Scripture.
We invite you to join us at 10:45 am Sunday morning for worship service!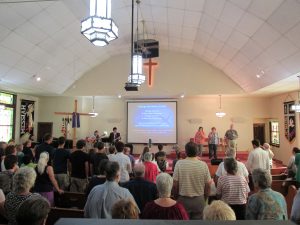 Worship – FBC Lathrop