YOU BELONG HERE, YOU ARE WELCOME HERE! C Y'ALL SOON!
Ladies Life Group is a ministry for women of all ages to gather, fellowship, share, and progress in their faith.
March 1, 2021 – 7pm, FBC – Lathrop Fellowship Hall
Word for the year PROJECT!!! Theme – Green Snack/Food items for St. Paddy's Day! $3 suggested donation
April 5, 2021– 7pm; PJ and Popcorn / Movie Night Location TBD $3 suggested donation
May 3, 2021– 7pm; May Flowers – Making Flower Arrangements and then delivering to our seasoned sisters that are not able to come yet to our meetings. Ethnic Food theme. $3 suggested donation
June 7, 2021 – 7pm church fellowship hall; Testimony – A Fathers Influence MIB Theme and Snacks
July 5, 2021 – 7pm; Hot Dogs / Hamburgers North Campus – Fireworks and Praise Time of Celebration. $3 suggested donation.
August 2, 2021 – 7pm; Church Fellowship Hall – Back to School Pizza Party Night. Entry donation is a school supply or two to donate to the back to school program. Game Night.
September 6, 2021 – 7pm; Church Fellowship Hall – Labor Day Ice Cream Social and Pie/Cake contest – fundraiser proceeds to North Campus Building Project.
October 4, 2021 – 7pm; Smore's Night – Outside around the fire pit singing praise and worship songs. $3 suggested donation.
November 1, 2021 – 7pm; Church Fellowship Hall – Massages to relax and prepare for the Thanksgiving and Christmas Holidays, a Meal and a Hymnal Wreath craft to take home.
December 6, 2021 – 7pm; Annual Cookie Exchange
All Meetings are subject to change but this is our tentative plan for the 2021 Year. Keep an Eye in the Weekly Bulletin, on the Monthly Calendar and our Women's Ministry Facebook Page for more up to date details.
Bring a Friend or Two or Three. 🙂 Questions contact Lori Morgan at 816-509-1825 text or call.
o see FACEBOOK Group – Women's Ministry: FBC-Lathrop , closed group but request an invite and we will add you. Happy to have you belong in our ladies ministry. We keep is closed to be able to share prayer requests etc.
Bible Study – It's Not Supposed to Be This Way by Lysa TerKuerst
What happens when life looks very different from the reality we long for? In It's Not Supposed to Be This Way, Lysa TerKeurst offers a Biblical perspective and hard-won advice to encourage readers facing their own challenges. Find unexpected strength while wrestling between faith and feelings and learn how to stand through uncertainty and trust in God's goodness.
Starting tentatively March 23 in March for 6 weeks on Tuesday Nights at 6:30pm. This study will be at FBC Lathrop. If you are interested in this study and want to be kept update on with the meeting info and addresses please call, text or email Lori Morgan 816-509-1825 or lmiller3243@yahoo.com.
***********************************************************************************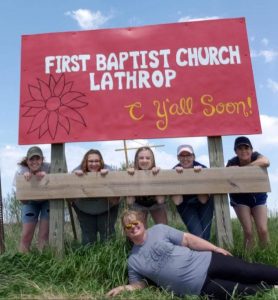 Ladies Life Group